Overview
PressureWEB™ is a html-based software application that is included with the purchase of our PressureMAP™ software. With PressureWEB MAP System users have the ability to view important system information and reports over the Internet via a standard web browser. This capability streamlines and simplifies the process of accessing key PressureMAP information and initiating specific program functions.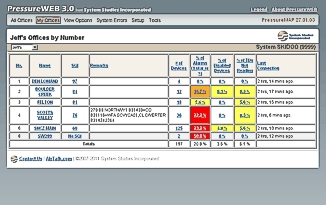 Among the reports available in PressureWEB are
All Offices
and
My Offices
listings,
Device Status
reports,
Office Information
,
Specific Device Information
,
System Quality Index
displays, and more. A
Setup
link lets you select and name multiple My Offices listings and define a variety of default display preferences. The application's main navigation bar, located at the top of the browser window, provides the controls you need to access desired information and initiate specific actions, such as generating new office readings, getting realtime device readings for a specific device, performing pair diagnostics, routing tone on a pair (for 289H LSS™ offices only), accessing the Office Dashboard status information, and even generating a Google map which shows the location of a device on a street, terrain or satellite map.
Monitoring devices that are in alarm status (starred and routine PressureMAP Alarms) are hyperlinked to individual pop-up windows that display pertinent Alarm Condition information. Additionally, a number of important leak locating aids are available via the
Tools
link. These include a new graphing tool, an online calculator, and access to a browser version of our 300-page
Cable Pressurization Theory & Practice
book.
Screen Samples
New capabilities are constantly being added to PressureWEB to provide you with nearly instantateous access to PressureMAP information. For a closer look at the latest PressureWEB features, please take a moment to review the
PressureWEB 3.2 Capabilities Overview
that we have prepared for this purpose. This document provides a much more thorough explanation of what you can expect from the application.